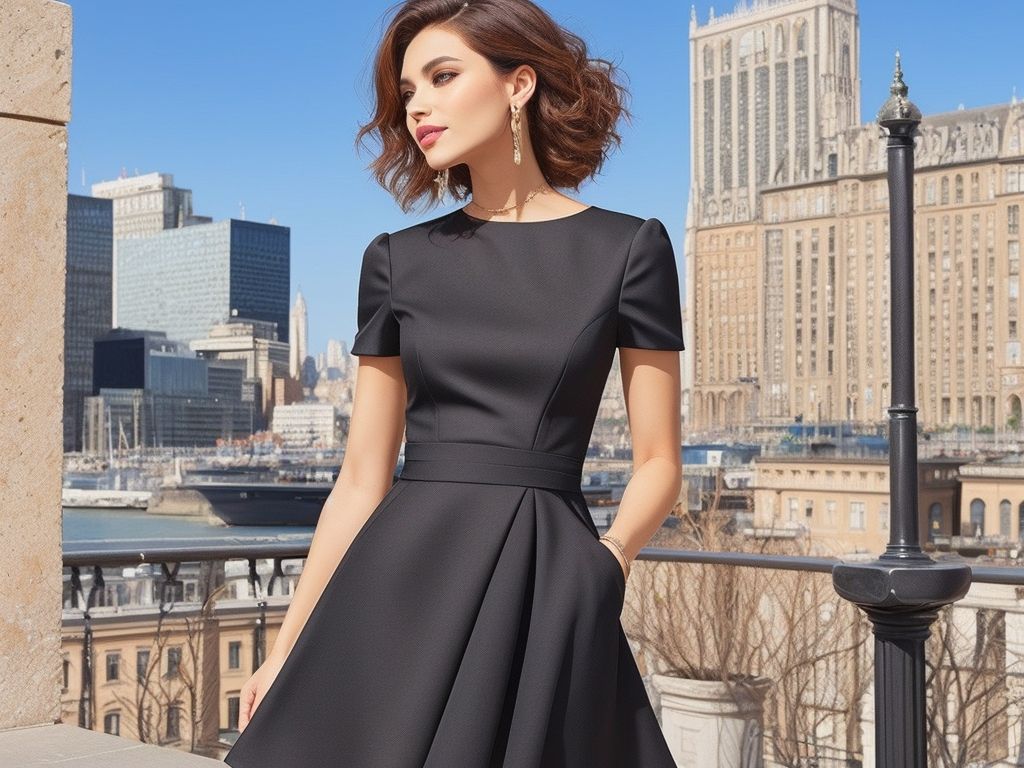 The little black dress is a timeless classic that every woman should have in her wardrobe. It's versatile, elegant, and can be styled in numerous ways to create different looks for various occasions. Here, we will explore how to make a little black dress stand out and become the focal point of your outfit.
When it comes to styling a little black dress, accessories play a crucial role. Adding statement jewelry such as bold earrings or a chunky necklace can instantly elevate your look. Opt for pieces that complement the neckline and add a pop of color or sparkle to draw attention. Another way to make your dress stand out is by incorporating a belt to cinch in the waist and create a more defined silhouette.
To further enhance your little black dress, consider experimenting with different textures and fabrics. Opt for dresses with lace detailing, sequins, or velvet accents for an added touch of luxury and uniqueness. Additionally, playing with contrasting fabrics through layering can create depth and visual interest.
Shoes are another essential element that can help make your little black dress stand out. Whether you choose sky-high stilettos, statement boots, or strappy sandals, selecting the right footwear can transform your entire look. Match the style of shoes with the occasion – sleek pumps for formal events or edgy boots for a night out on the town.
Finally, don't forget about hairstyle and makeup when it comes to making your little black dress shine. Experiment with different hairstyles that complement the neckline of your dress – an updo for high necklines or loose curls for strapless styles. When it comes to makeup, opt for either a bold lip or smoky eyes to add an extra element of drama.
When it comes to choosing the right little black dress, remember that it should be like your ex – elegant, versatile, and able to make all your friends jealous.
Choosing the right little black dress
Choosing the Perfect Little Black Dress
A well-chosen little black dress can be a versatile and timeless addition to any wardrobe. To find the right one for you, consider factors such as style, fit, and occasion.
When choosing a style, opt for a design that flatters your body type and matches your personal taste. From classic sheath dresses to trendy A-line silhouettes, there are various options to suit different preferences.
In terms of fit, prioritize finding a dress that accentuates your best features and provides a comfortable fit. Consider factors such as neckline, waistline, and length to ensure it complements your body shape.
Additionally, think about the occasion you'll be wearing the dress for. A little black dress can be dressed up or down, making it suitable for both formal events and casual outings. Take into account the dress code and the ambiance of the event to select the appropriate style.
When it comes to choosing the right little black dress, these considerations are crucial in ensuring you stand out and feel confident. Select a style that highlights your unique personality and embrace the endless possibilities of accessorizing to make it truly your own. Don't miss out on the chance to enhance your wardrobe with this timeless and versatile piece.
Try pairing your little black dress with a statement necklace or chunky bracelets, because nothing says I'm attending a funeral for boring outfits like some bling.
Consider the occasion
When choosing the perfect little black dress, it is imperative to consider the occasion. Whether it's a formal event or a casual gathering, your attire should reflect the tone and ambiance of the event. Opt for a classic and elegant style for black tie affairs, while a more relaxed and playful option would be suitable for a casual outing. By considering the occasion, you can ensure that you make the right impression and feel confident in your outfit choice.
Additionally, take into account any specific dress codes or guidelines provided by the event organizers. Some occasions may have specific themes or requirements that you need to adhere to. For example, a cocktail party may call for a knee-length dress with stylish details, while a business function may require a tailored dress with minimal embellishments. Considering these factors will help you narrow down your options and find the perfect little black dress that meets all requirements.
Furthermore, don't forget about comfort when selecting your little black dress. While it's important to look stylish and appropriate for the occasion, it's equally crucial to feel comfortable throughout the event. Choose fabrics and designs that allow freedom of movement and consider factors such as weather conditions and potential activities during the occasion. By prioritizing comfort alongside style, you can ensure an enjoyable experience without sacrificing your personal comfort.
In summary, when choosing the right little black dress, considering the occasion is essential. Pay attention to any specific dress codes or themes associated with the event and aim to strike a balance between elegance and comfort. By doing so, you can confidently step out in style and make a lasting impression at any occasion.
Finding the perfect little black dress is like choosing a partner – it needs to fit just right, make you feel confident, and never fail to impress.
Selecting the right style
Choosing the right style for your little black dress can be a daunting task. With so many options available, it's important to find a style that suits your body type and personal taste. Whether you prefer a classic A-line silhouette or a more daring off-the-shoulder design, there's a little black dress out there for everyone.
When selecting the right style, consider the occasion you'll be wearing it to. If you're attending a formal event, opt for a dress with elegant details such as lace or sequins. For a more casual outing, choose a dress with simpler lines and minimal embellishments. It's also important to consider your own personal style and what makes you feel confident and comfortable.
Another factor to keep in mind when choosing the right style is your body shape. Different styles flatter different figures, so it's important to choose a dress that accentuates your best features and downplays any areas of concern. For example, if you have an hourglass figure, look for a dress that cinches at the waist to highlight your curves. If you have a pear-shaped body, try an A-line or empire waist dress to balance out your proportions.
Don't forget about the fabric when selecting the right style. The fabric can greatly affect how the dress drapes on your body and its overall look and feel. Consider choosing a fabric that is both flattering and appropriate for the occasion. A flowy chiffon or silk fabric can add elegance and grace to your little black dress, while a structured fabric like cotton or neoprene can create a more tailored and sophisticated look.
The right little black dress should fit you like a second skin, because let's be honest, you don't want it hugging you tighter than your ex on social media.
Pay attention to fit and length
Fit and length are crucial elements to consider when selecting the perfect little black dress. The right fit will accentuate your figure while the appropriate length will determine the overall look and feel of the dress. Let's delve into why these factors are so important.
The fit of a dress can make or break your entire appearance. It should hug your body in all the right places, highlighting your best assets and creating a flattering silhouette.
When it comes to length, you need to find the sweet spot that suits your style and occasion. A mini dress exudes youthfulness and is perfect for parties, while a knee-length or midi dress offers sophistication and versatility for various events.
A dress that is too tight may restrict movement and make you feel uncomfortable throughout the day or night. On the other hand, if it's too loose, it can give off a sloppy vibe and fail to showcase your curves.
The length of a dress can also affect how proportionate your body looks. Petite individuals may want to opt for shorter lengths to create an illusion of elongated legs, while taller individuals can experiment with longer lengths for an elegant effect.
Consider the neckline as well – a V-neckline can elongate your neck while a scoop neck can draw attention to your collarbones. These subtle details contribute to an overall cohesive look.
Lastly, keep in mind that different occasions call for different fits and lengths. When attending a formal event, opting for a more tailored fit and longer length will exude elegance, whereas a casual gathering allows for a looser fit and shorter hemline.
It's important to find the right balance between fit and length when choosing a little black dress. Remember that everyone's body is unique, so take the time to try on different styles and sizes until you find one that makes you feel confident and comfortable. With the right fit and length, your little black dress can become a timeless staple in your wardrobe that effortlessly enhances your individuality for any occasion.
Accessorizing your little black dress: Because let's be honest, the right accessories can make even a funeral look fabulous.
Accessorizing your little black dress
Incorporating Accessories to Enhance the Appeal of Your Classic Black Dress
Your little black dress is a versatile fashion staple that can be effortlessly elevated with the right accessories. Here are three key points to consider when accessorizing your black dress:
Jewelry: Select statement pieces like a chunky necklace or statement earrings to add a touch of glamour and individuality to your ensemble. Opt for metallic or colorful accessories to create a striking contrast against the black backdrop of your dress.
Footwear: Choose footwear that complements the style and occasion of your outfit. While a pair of classic black heels can never go wrong, you can also experiment with different styles and colors to inject some personality into your look. Consider strappy sandals, bold pumps, or even ankle boots for a contemporary twist.
Handbags: A stylish handbag can be the perfect finishing touch to your little black dress. Opt for a clutch or shoulder bag that adds a pop of color or texture to create visual interest. Embellishments like studs, sequins, or embroidered details can also make your bag a standout accessory.
To further enhance your ensemble, consider unique details such as a statement belt, a chic hat, or a bold lipstick that complements your black dress. These additional elements can make a memorable style statement and showcase your personal flair.
True History:
The little black dress gained iconic status when it was introduced by Coco Chanel in the 1920s. It quickly became a symbol of timeless elegance and versatility, allowing women to easily transition from day to nightwear. Since then, the little black dress has remained a wardrobe staple, continuously reinvented with modern twists by fashion designers around the world. Its ability to be accessorized and adapted to various occasions has solidified its position as a fashion must-have.
Add some eye-catching statement jewelry to your little black dress, because nothing says 'class' like a sparkling necklace that could double as a weapon.
Selecting statement jewelry
Start by assessing the neckline of your dress. If it's a plunging V-neck, opt for a stunning pendant necklace that accentuates your décolletage.
For a high-neck or halter dress, go for shoulder-grazing earrings to create a bold and elegant statement.
Consider the color of your dress when selecting statement jewelry. For a classic black dress, vibrant gemstones like rubies or emeralds can add a pop of color and sophistication.
Don't be afraid to mix metals! Experiment with gold, silver, or rose gold accessories to match your personal style and complement the black dress.
Lastly, keep your overall outfit in mind when choosing statement jewelry. If you're going for a minimalist look, select one standout piece that speaks volumes rather than multiple clashing accessories.
In addition to these tips, remember to stay true to yourself and let your unique personality shine through your choice of statement jewelry. By following these suggestions, you'll effortlessly elevate your little black dress ensemble and showcase your impeccable style.
Step up your shoe game and choose the perfect pair to complement your little black dress, because Cinderella may have had her magical glass slippers, but you'll have celebrities asking where you got yours!
Choosing the right shoes
Choosing the Right Shoes
When it comes to accessorizing your little black dress, choosing the right shoes is crucial. They can make or break your outfit and complete the overall look. Here are four important points to consider when selecting the perfect pair:
Comfort is key: Opt for shoes that not only look good but also feel comfortable. You don't want to spend a night in painful heels or squeezing into tight shoes.
Match the occasion: Consider the event you will be attending and choose shoes accordingly. For formal events, classic pumps or elegant sandals are a safe bet, while for a casual gathering, you can go for trendy sneakers or stylish flats.
Add a pop of color: If your little black dress is simple and understated, adding a colorful shoe can instantly elevate your outfit. Opt for bold hues or metallic shades to make a statement.
Experiment with style: Don't be afraid to try different shoe styles with your dress. Whether it's strappy heels, ankle boots, or even sneakers, experimenting with different looks can add an element of surprise and individuality.
Furthermore, it's important to note that the material of the shoe should also complement your dress. Be conscious of matching textures and fabrics for a cohesive look.
To summarize, when choosing the right shoes for your little black dress, remember to prioritize comfort, consider the occasion, experiment with style, and don't be afraid to add some color. With these tips in mind, you'll be able to create an effortlessly chic ensemble that makes you stand out in any crowd.
Accessorizing your little black dress with a belt or sash is like adding a cherry on top, just in case anyone doubted your ability to whip up a stylish ensemble.
Adding a belt or sash
Belt it up: Choose a skinny belt for a sleek and sophisticated look, or opt for a wide belt to create an hourglass silhouette. Experiment with different materials like leather, satin, or even chain belts for added texture.
Color contrast: Take your LBD from monochrome to vibrant by adding a brightly colored sash. Opt for contrasting hues like red or turquoise to make a bold statement, or go for subtle shades like pastels to add a touch of femininity.
Statement buckle: Make a statement with an eye-catching buckle on your belt or sash. From oversized designs to intricate detailing, the buckle can become the focal point of your outfit and add that extra spark of uniqueness.
Accessorize with accessories: Enhance the overall look by pairing your belt or sash with other accessories. Add a matching handbag or clutch, coordinate with statement jewelry pieces, or even don a hat to complete the ensemble.
Play with placement: Have fun experimenting with where you place the belt or sash. Try around the waist for classic elegance, sling it over one shoulder for asymmetrical charm, or even tie it around the neckline as a chic alternative to a necklace.
By adding a belt or sash to your little black dress, you can customize and personalize your outfit effortlessly. Whether you want to define your waistline, introduce colors and patterns, make a fashion statement through unique buckles, accessorize further with complementary pieces, or explore creative placements – this accessory truly has endless possibilities.
A little black dress is like a blank canvas – just add the right hairstyle and makeup, and you'll be one smoky eye away from a scandalous night out.
Hairstyling and makeup tips
Hairstyling and makeup are crucial elements in enhancing the allure and impact of a little black dress. Consider the following tips to elevate your look:
Hairstyle: Opt for an elegant updo or sleek ponytail to highlight your dress's neckline and shoulder details.
Makeup: Emphasize your eyes with a smoky eyeshadow and winged eyeliner. Pair it with a bold red lip for a classic and sophisticated touch.
Accessories: Complement your hairstyle and makeup with statement earrings or a delicate necklace to further enhance your overall appearance.
Balance is key: Keep in mind that your hairstyle and makeup should harmonize with the simplicity and elegance of the black dress, without overpowering it.
Experimentation: Don't be afraid to try new hairstyles and makeup techniques to find the perfect combination that enhances your individual style and personality.
Apart from these tips, remember that personal confidence and embracing your unique features will always be the most captivating aspect of any look.
In history, the little black dress became an iconic fashion item in the 1920s, popularized by designer Coco Chanel. It revolutionized women's fashion by offering a modern and versatile garment suitable for various occasions. Over the years, it has remained a timeless and essential piece in every woman's wardrobe.
Creating a dramatic hairstyle is like adding a sprinkle of chaos to the elegance of your little black dress, because life is too short for boring hair.
Creating a dramatic hairstyle
To create a dramatic hairstyle, follow these 5 steps:
Start by thoroughly washing your hair to ensure a clean canvas for styling.
Next, apply a volumizing mousse or spray to add texture and body to your hair.
Use a comb to create a deep side part or slick back your hair for a sleek and sophisticated look.
Now, it's time to add some drama! Use a curling iron or hot rollers to create big, loose curls or waves.
Finish off with a generous amount of hairspray to hold your dramatic style in place throughout the day.
For an extra touch of uniqueness, consider adding accessories like sparkly hair clips or a statement hairpiece that complements your overall look.
By following these simple steps, you can easily achieve a show-stopping and head-turning dramatic hairstyle without the need for elaborate salon techniques or expensive products. So go ahead and make a bold statement with your stunning hairdo!
Need to enhance your makeup? Just throw some glitter on it and watch everyone blind themselves in admiration.
Enhancing your makeup
Enhancing Your Makeup:
Makeup is a powerful tool that can transform your look and boost your confidence. To enhance your makeup game, follow these tips:
Start with a clean canvas: Always cleanse and moisturize your face before applying any makeup. This will ensure a smooth application and help the products to stay in place throughout the day.
Primer is key: Using a primer before applying foundation will help create a smooth base for your makeup. It helps to fill in pores, minimize fine lines, and make your foundation last longer.
Play with colors: Experimenting with different shades can be fun and exciting. Don't be afraid to try bold colors on your eyes or lips to enhance your features and make a statement.
Highlight and contour: Use highlighter on the high points of your face (cheekbones, bridge of the nose, cupid's bow) to add dimension and create an overall glow. Contouring can define your features and give the illusion of a more sculpted face.
Define those brows: Well-groomed eyebrows can make a huge difference in framing your face. Fill them in using an eyebrow pencil or powder to achieve a polished look.
Set it all in place: Lock in your masterpiece by setting your makeup with a setting spray or powder. This will ensure that everything stays put throughout the day or night.
In addition, remember to blend well, as harsh lines can ruin even the most flawless makeup application. Invest in high-quality brushes and tools for better results. With practice and patience, you'll become a pro at enhancing your natural beauty through makeup.
Confidence is key, and if you can rock a bad hair day like it's a deliberate fashion statement, then you've already won half the battle.
Confidence is key
Confidence plays a crucial role in making a little black dress stand out. By exuding self-assuredness, you can enhance the impact of this classic garment. The way you carry yourself, maintain good posture, and express poise can make all the difference in highlighting the elegance and allure of the dress. Confidence also boosts your overall appearance, making you shine and become the center of attention. To truly stand out in a little black dress, always remember that confidence is key.
Emphasizing confidence is essential in making a little black dress catch everyone's attention. When you believe in yourself and feel comfortable in your own skin, it radiates a natural charisma that draws people in. Maintain a positive mindset and focus on your strengths, allowing them to enhance your overall look. Remember to carry yourself with grace, walk with confidence, and engage in conversation with assertiveness. By incorporating confidence into your demeanor, you elevate the impact of your little black dress.
It's important to note that confidence goes beyond just appearance. It is also reflected in your attitude, behavior, and how you treat others. When you exude confidence, you create an aura of authenticity that captivates those around you. By staying true to yourself and embracing your unique qualities, you demonstrate a self-assuredness that is irresistible. Moreover, confidence provides a sense of empowerment, allowing you to navigate social situations with ease and charm, thereby amplifying the effect of your little black dress.
A true story that highlights the power of confidence involves a woman attending a formal event. Despite feeling nervous about the occasion, she chose to wear a little black dress that made her feel elegant and sophisticated. As she walked into the room with a confident stride, she noticed heads turning and compliments flowing her way. The combination of her stylish attire and unwavering confidence allowed her to stand out among the crowd. This experience taught her the importance of embracing confidence to make any outfit, especially a little black dress, truly remarkable.
Want to make your little black dress stand out? Stand up straight, because slouching is so last season and nothing kills a sultry vibe like bad posture.
Posture and body language
Stand tall: Keep your spine straight, shoulders back, and chin parallel to the ground. This conveys confidence and assertiveness.
Open stance: Avoid crossing your arms or legs as it creates a barrier between you and others. Instead, maintain an open posture to appear approachable.
Maintain eye contact: Make sure to engage with the person you're talking to by maintaining consistent eye contact. It shows attentiveness and interest.
Gestures: Use natural hand movements while speaking to convey enthusiasm and reinforce your message. However, avoid excessive or distracting gestures.
Smile: A genuine smile not only makes you appear friendly but also boosts your own confidence. It creates a positive impression on others.
Sit confidently: When sitting, sit up straight with both feet planted firmly on the ground. Avoid slouching or fidgeting, which can indicate nervousness or lack of confidence.
Remember, these small adjustments in posture and body language can have a significant impact on how you are perceived by others.
In addition, remember that subtle details like mirroring another person's body language can help build rapport and establish connections. Being aware of your own body language is just as important as understanding others'. By mastering these techniques, you will exude confidence in various social and professional situations.
Make it a habit to practice good posture and be mindful of your body language. With time, it will become natural for you to carry yourself confidently, leaving a lasting positive impression on those around you.
A confident fashion statement is like a well-versed joke, you may not get it, but it's hilarious.
Owning your style
To truly own your style, it is important to be aware of current fashion trends while staying true to your personal taste. Experiment with different looks, textures, and colors to find what resonates with you the most. Don't be afraid to take risks and step out of your comfort zone. Remember, fashion is an art form that allows you to showcase your creativity and identity.
Another aspect of owning your style is paying attention to the details. From selecting the right accessories to ensuring a perfect fit for each outfit, these small touches can make a big difference in how you present yourself. Invest in quality pieces that will last longer and make you feel confident every time you wear them.
Building a signature look is also key to owning your style. Identify specific elements or garments that are representative of who you are and incorporate them into your wardrobe consistently. This could be a particular color palette, a statement piece like a bold hat or unique jewelry, or even a specific brand that aligns with your values.
Moreover, owning your style extends beyond just clothing; it encompasses grooming habits as well. Pay attention to personal hygiene, grooming techniques, skincare routines, and hairstyles that enhance your overall appearance. Taking care of yourself physically will boost your self-confidence and elevate your personal style.
The only thing more confident than someone who ends an article with a one-liner is someone who ends an article with a one-liner and then drops the mic.
Conclusion
In a nutshell, making a little black dress stand out requires creativity and attention to detail. By following some key styling tips and adding unique accessories, you can transform your LBD into a show-stopping ensemble.
To begin with, let's discuss the importance of finding the perfect fit for your little black dress. A well-fitted dress can instantly enhance your silhouette and make you feel more confident. Consider getting it tailored to ensure that it flatters your body shape perfectly, accentuating your best features.
Now, let's delve into the world of accessories. Adding statement jewelry such as a bold necklace or sparkling earrings can elevate your little black dress to new heights. Don't be afraid to experiment with different textures and colors – a vibrant scarf or a metallic belt can bring an unexpected twist to your ensemble.
Another way to make your LBD stand out is by playing with layers. Consider pairing it with a chic blazer or a stylish jacket for an edgier look. You can also experiment with different fabrics like lace or velvet for added texture.
Lastly, don't underestimate the power of footwear in completing your outfit. Depending on the occasion, opt for classic pumps or strappy heels to add sophistication or choose ankle boots for a more casual vibe. The right pair of shoes can tie everything together and make your little black dress truly shine.
Frequently Asked Questions
1. How can I accessorize a little black dress to make it stand out?
Accessorizing is key to making a little black dress stand out. You can pair it with statement jewelry, such as a bold necklace or chandelier earrings. Adding a pop of color with a vibrant clutch or shoes can also make a statement. Don't forget to experiment with different belts, scarves, or wraps to enhance your dress further.
2. What type of footwear goes well with a little black dress?
There are plenty of options when it comes to footwear for a little black dress. You can go for classic black pumps for an elegant look, or choose strappy sandals for a more summery vibe. If you want to add an edgy touch, ankle boots or platform heels can do the trick. Just ensure your shoes complement the occasion and your personal style.
3. How can I make a little black dress stand out for a daytime event?
For a daytime event, you can make your little black dress stand out by opting for lighter accessories. Pair the dress with a colorful cardigan, a statement belt, or a wide-brimmed hat. Choose wedges or flats as footwear instead of heels for a more casual and comfortable look.
4. What hairstyles work best with a little black dress?
When it comes to hairstyles, the possibilities are endless. You can wear your hair down in loose waves for a relaxed look or opt for an elegant updo like a bun or a sleek ponytail. If you want a more romantic style, try braids or soft curls. Experiment with different looks to find what complements your dress and overall outfit.
5. Should I opt for bold or neutral makeup with a little black dress?
The choice between bold or neutral makeup depends on the occasion and your personal preference. If you want to make a statement, go for a bold lip color or smokey eye makeup. For a more classic and timeless approach, opt for neutral shades that enhance your natural features. Remember, balance is key when it comes to makeup, so focus on one feature to highlight.
6. How can I layer a little black dress to make it stand out in colder weather?
To make your little black dress stand out in colder weather, you can layer it with various pieces. Pair it with a tailored blazer or a leather jacket for a chic and effortless look. You can also add tights or leggings with knee-high boots for extra warmth and style. Consider accessorizing with a vibrant scarf or hat to add a pop of color to the ensemble.